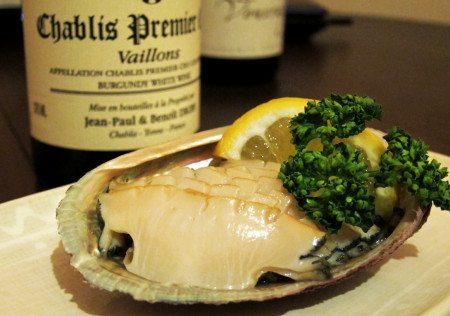 While Abalone is not so common in the West, it is considered one of the very finest shellfish in most Asian countries, including Japan where it is called awabi.
My first experience with awabi was in Sapporo. Placed over a charcoal-fired grill on its shell, I was quite surprised to see living yellow flesh start to squirm around after several seconds, trying to escape the heat, while the barbecue lady kept it put, eventually putting it out of its misery by cutting it up and flavoring it with butter and soy sauce. A memorable experience to say the least!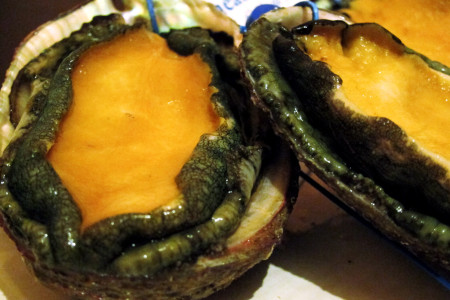 Well, I was lucky enough to land some fresh Molène abalone at a gastronomy festival, and so I decided to try a few wine pairings, this time in sashimi mode. I picked up three half bottles of white wines I thought might work : a crisp and mineral Chablis 1er cru Vaillons by Droin, a dry Chenin from Vouvray by Chidaine, and a buttery Meursault by Boisson-Vadot.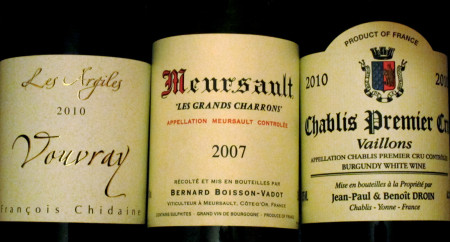 It came as no surprise that the Chablis showed best, striking a gorgeous balance with the delicate sashimi. The citrus and mineral notes did not overwhelm the abalone, while the balanced acidity livened the palate without ever getting too aggressive. Where the Vouvray's generous fruit took the upper hand, the Chablis played a more subtle tune, allowing the abalone to really shine through.
While I didn't necessarily expect the Meursault to work with the sashimi, as oak and raw seafood don't generally fare well together, we also prepared a soy sauce and butter sautéed awabi dish on the side which I though would go well with this oaked Chardonnay.
The pairing did indeed work, especially with the rich and buttery liver bit, but the Chablis surprised us by beating out the Meursault on this dish as well. The soy and butter rounded out the wine, adding depth while keeping the awabi at the center of the experience. I would have loved to trade up for a Grand Cru Chablis for the sautéed awabi, but that will be for another time!