Red wine doesn't necessarily first come to mind when selecting a bottle to pair with Japanese food. This is mainly because fish and seafood play an important role in Japanese cuisine, and these are ingredients which we generally associate with white wine. As long as tannins and oak are not overwhelming however, reds can also offer an interesting alternative for sushi and other seafood, while fuller oaked reds have their place with meat dishes, whether they are grilled, sautéed on a teppan or served with Japanese sauces (teriyaki, tare, etc.).
While there are too many grape varieties and wine regions throughout the world to discuss individually, one can generalize and group them into several categories for the sake of matching with food. Below, you'll find the major styles of red wine along with examples of appellations or grape varieties which fit into those categories, and their usual price points ($ – under $15,  $$ – between $15 and $50, $$$ – over $50).
Because of their particular characteristics, Pinot Noir and Burgundy are further covered on a dedicated page.
Light Reds
Served slightly chilled, light-bodied reds with little tannin and a refreshing acidity can provide a fine alternative to white wines. The aromas of bright red berries or cherry do not overwhelm delicate dishes (including raw fish) while the liveliness awakens one's palate to the subtleties of the food.
Best pairings: maguro (sashimi or donburi), gyuu no tataki (raw beef), chicken karaage, yakitori (tsukune)
$ :  Beaujolais (Nouveau), Mâcon, Chinon, Bourgeuil, Touraine Gamay, Crozes-Hermitage, Barbera, Chianti, Valpolicella, Náousa, Jura Poulsard (Arbois)
$$ : Beaujolais Cru (Fleurie, Saint-Amour..)
Structured Reds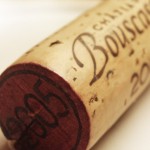 Tannins and acidity are the key components in providing a young red wine with structure. These full-bodied and somewhat grainy reds can come off as slightly austere on their own, but they reveal their true potential with food. Japanese dishes which can stand up to such a wine also tend to have a touch of sweetness, which calls for riper red wines. There are some notable red meat exceptions, such as the luxurious wagyuu steak, whose extremely soft fat rounds out the tannins!
Best pairings: teppanyaki wagyu, genghis kahn (lamb)
$ – $$ : Haut-Médoc, Graves, Madiran, Cahors, Moulin-à-Vent, Bandol, Vino Nobile di Montepulciano, Rosso di Montalcino, Taurasi, Sagrantino di Montefalco
$$ – $$$ : Pauillac, Saint-Estèphe, Saint-Julien, Pessac-Léognan, Hermitage, Côte-Rôtie, Barolo, Barbaresco, Brunello di Montalcino
Spicy Reds
Red wines which feature a distinct spicy character hold a special place in food pairing, regardless of the wine's structure or body. Spicy reds require dishes with more power and character. The strong tobacco or black pepper aromas found in wines from Syrah, Mondeuse, Lagrein, Petit Verdot, Pinotage and certain oaked Blaufränkisch or Spätburgunder wines, can overwhelm subtle flavors. They are a great match for certain ingredients however, such as akashisou or yuzu-koshou.
Best pairings: spicy reds w/ aka-shisou furikake, butabara or yuzu-koshou
$ – $$ : Savoie Mondeuse, Austria Blaufränkisch (Mittelburgenland), Alto-Adige Lagrein, South Africa Pinotage, Petit Verdot (California), Syrah (Côtes du Rhône)
$$ – $$$ : Côte-Rôtie, Hermitage
Rich Oaked Reds
From warmer climates, red wines with lush ripe fruit, toasty oak aromas and lower acidity levels are generally well suited to meats and dark sauces, such as teriyaki or tare. The sweetness in these sauces is matched by the richness of the wine, with the oak's vanilla, coffee or chocolate aromas amplifying the grilled flavors of char-grilled meats. While moderate tannins are not a defining element of these juicy reds, it is important that they present enough structure to support the weight of the wine.
Best pairings: teriyaki steak, katsu w/ sauce, yakitori w/ tare sauce, unagi, okonomiyaki (meat toppings), gyuu-soboro
NOTE: Because this type of wine style is largely influenced by the winemaker, it is difficult to generalize to entire regions. The ones listed below, however, are where one is most likely to find such wines.
$ – $$ : Languedoc-Rousillon, Australia Shiraz, Argentina Malbec, Chile Cabernet Sauvignon, Rioja Crianza, Montsant, Toro, Portugal (Douro, Alentejo), Zinfandel, Primitivo, Montepulciano d'Abruzzo, Nero d'Avola
$$ – $$$ : Napa Valley Cabernet, Washington Merlot, Priorat, Ribera del Duero, Rioja Reserva/Gran Reserva, Super Tuscan (Merlot, Syrah), Amarone, Pomerol or Saint-Emilion (esp. 2003, 2009), Chateauneuf du Pape (esp. 2003, 2007, 2009)
Mature Reds

After a decade or more of bottle age, structured red wines tend to soften up, gaining a silky texture along with complex tertiary aromas including leather and mushroom, along with crushed berries or dried flowers. Because the tannins "melt" into the wine and are no longer astringent, mature reds can easily be paired with fish or other delicate and simple dishes, a specialty of Japanese cuisine!
Best pairings: teppanyaki akami steak, maguro sashimi, nabe