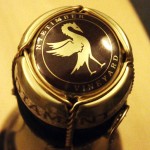 When it comes to picking a bottle to go with Japanese cuisine, sparkling wine is generally a safe choice. You won't find a more versatile companion to the wide variety of dishes which share the spotlight in a typical Japanese meal. From sushi to deep-fried dishes, the elegant bubbles and lively acidity keep the palate fresh, cutting through rich textures while amplifying delicate aromas rather than masking them.
Common méthode traditionelle sparklers:
$ : Crémant (Alsace, Bourgogne, Jura), Vouvray, Saint-Péray, Cava, Sekt, Prosecco, Trento, Oltrepò Pavese
$$ : Franciacorta, England, Brasil
$$ – $$$ : Champagne
Champagne
The extra minerality derived from the chalky soils of Champagne offer an extra dimension for seafood pairings, particularly with shellfish or shrimp. This is particularly true of Extra Brut or Chardonnay-based Blanc de Blancs Champagne, which tend to be more lively, whereas a Blanc de Noirs or Pinot Noir-based Champagne is fuller and more vinous, allowing for pairings with richer fish and fried white meats.
Best pairings Blanc de Blancs or Extra-Brut: sashimi (ebi, uni, fugu),  tempura (ebi), ebi-fry, kaki-fry
Best pairings Blanc de Noirs: nigiri sushi (toro, hamachi), tonkatsu, karaage
Vintage or Reserve Champagne
Vintage Champagne and other prestige cuvées undergo a longer maturation in bottle. This results in complex yeast, brioche or pastry aromas, as well as added body and weight from the extended lees contact. Expanding on regular Champagne's affinity to seafood and deep-fried dishes, these more mature sparklers will also work beautifully with earthier ingredients such as mushroom and tofu, as well as egg-based dishes including batter.
Best pairings: tempura (shiitake, shrimp), takoyaki, tamagoyaki, tofuage
Champagne/Sparkling Rosé
With the added fullness and fruit intensity of a sparkling rosé, the category becomes even more versatile. While the refreshing acidity remains an advantage for fish pairings, in particular salmon, the fruitiness and weight of these sparklers can reach out to lightly boiled or raw meat dishes.
Best Pairings: sushi (maguro, shake, ikura), salmon shioyaki, shabu shabu (w/ ponzu), gyu no tataki
Sweet Sparklers (Asti, etc.)
Italian Asti Spumante and its counterparts generally present low alcohol and a little sweetness which can open up new possibilities for food pairings. To balance the sugar, try pairing these fruity wines with rich seafood, including teriyaki type sauces for example. For special occasions, Champagne is also made in off-dry to sweet styles, although the sugar is added as part of the dosage just before bottling.
Best pairings: sushi (amaebi, shimesaba), unagi/anago, salmon teriyaki
$ : Asti Spumante, Lambrusco, Brachetto d'Acqui, méthode ancestrale sparklers (Clairette de Die, Bugey, Cerdon, Blanquette de Limoux)
$$ : Champagne demi-sec or moelleux