White wine is particularly well suited to Japanese cuisine, which often features seafood or other delicate ingredients that can be overpowered by most reds. It is also the most similar to Japanese sake, in particular ginjou or daiginjou, which usually offer fruity aromas of persimmon or melon. The main difference with sake is the acidity, which is much higher in wine. Sake will generally be softer, smoother and more subtle on the palate, while wine will leave more of a mark. It is therefore quite important to choose the right bottle, as any mismatch will be painfully obvious.
While there are too many grape varieties and wine regions throughout the world to discuss individually, one can generalize and group wines into several categories for the sake of matching with food. Below, you'll find the major styles of white wines along with examples of appellations or grape varieties which fit into those categories, and their usual price points ($ – under $15, $$ – between $15 and $50, $$$ – over $50).
Because of their particular characteristics, Sauvignon Blanc and Riesling are further covered on dedicated pages.
Light Whites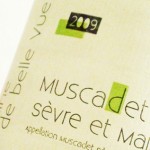 Light-bodied white wines are usually characterized by a lively acidity and relatively discreet aromas, making them a welcome partner for delicate Japanese dishes. One must be careful in pairing these wines with certain sushi however, such as salmon, as they can sometimes accentuate fishy flavors.
Best pairings: sashimi (tai, hirame, uni, tako), plain white rice, sunamono
$ : Muscadet, Sylvaner/Silvaner, Bourgogne Aligoté, Petit Chablis, Picpoul de Pinet, Vin de Savoie, Cour-Cheverny, Gros-plant du pays Nantais, Ugni Blanc/Trebbiano, Verdicchio, Tokai Friulano, Vinho Verde
$ – $$ : Bouzeron, Suisse Chasselas/Fendant, Japanese Koshu
Fruity Whites
These light- to medium-bodied whites are characterized by intense aromas of fresh fruit, such as peach, apple, or pear. They are versatile wines with enough acidity to balance richer seafood dishes, while the aromatic intensity keeps up with flavorful ingredients.
Best pairings: sushi (suzuki, hamachi, ika), yakitori (kawa), tempura (fish, ika)
$ : Pinot Grigio, Anjou Chenin Blanc, Chardonnay non-boisé (Bourgogne, Bourgogne Côte Chalonnaise, Mâcon ou Mâcon-Villages), Cassis, Alsace Pinot Blanc/Weissburgunder trocken, Albariño, Rueda, Arneis
$ – $$ : Saint-Véran, Pouilly-Fuissé, Rully, Montagny, Soave, Gavi, Rias Baixas
Mineral Whites
Defined by their strong mineral character, these whites show notes reminiscent of chalk, flint, or slate, which pair wonderfully with shellfish and shrimp in particular, regardless of the cooking style. On the palate, the minerality gives the wine a bit more weight (much like mineral water) and sometimes even a salty touch which is most welcome for Japanese dishes involving soy sauce.
Best pairings: shrimp or shellfish dishes (sushi, grill, tempura)
$ – $$ : Chablis, Vouvray, single vineyard Alsace Riesling or Germany/Austria Riesling Trocken, Greco di Tufo, Fiano di Avelino, Etna, Godello (Valdeorras), Santorini Assyrtiko
$$ : Chablis 1er cru, mineral Sauvignon Blanc (Sancerre, Pouilly-Fumé), Alsace GC Riesling, German Grosses Gewächs Riesling, Austrian Riesling and Grüner Veltliner trocken, Santorini Assyrtiko
$$$ : Chablis GC
Full-Bodied Whites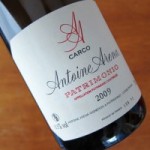 While these rich and voluptuous whites can overpower sushi or other delicate ingredients, they work quite well with umami-rich dishes, especially warm soups and broth-based dishes. The generous texture of the wine also stands up to full-flavored white meats and even seafood when accompanied by richer sauces.
Best pairings: noodles in soup (udon, soba), oden, yakitori, okonomiyaki (seafood toppings)
$ : Côtes du Rhône, Crozes-Hermitage, Languedoc, Côtes du Roussillon
$$ : Saint-Joseph, Saint-Péray, Châteauneuf-du-Pape, Spanish Maccabeo
$$ – $$$ : Hermitage
Oaked Whites
Though raw fish is to be avoided with these whites, oak aging gives the wines a surplus of body along with toasted or nutty aromas which can interact very well with certain dishes, in particular grilled flavors.
Best pairings: yakitori, teppan lobster
$ – $$$ : California, Australia and other New World Chardonnay
$$ : village-level Burgundy (Meursault, Puligny-Montrachet, Pernand-Vergelesses, Saint-Aubin), Graves/Pessac-Léognan
$$$ : 1er cru Burgundy, GC Burgundy (Corton-Charlemagne, Bâtard-Montrachet, Montrachet)
Aromatic Whites
While all wines are aromatic to some extent, several grape varieties really stand out from a crowd with their intense and immediately recognizable aromas. Alsace's Gewurztraminer and its typical lychee, jasmine, and rose scent is perhaps the most famous of these, and while it is often said to pair well with Asian cuisine, it can quickly overpower more delicate Japanese dishes. Serve it with recipes that rely heavily on ginger.
Viognier, primarily grown in France's Condrieu appellation, is another intense and full-bodied white which gives off strong floral notes backed with peach and apricot fruit. It also calls for rich seafood such as lobster or crab. Switzerland's Petite Arvine offers a similar profile, while the Torrontés grape in Argentina also yields floral whites, but is generally more affordable.
Finally, the Muscat grape variety actually maintains its original grape aroma after fermentation. While often bottled as a sweet dessert wine, the Alsatians also make a crisp, relatively light-bodied expression which is known to pair well with asparagus.
Best pairings: Gewurztraminer and pickled ginger ; Viognier and kani sushi; Muscat and asparagus tempura
$ : Alsace Gewurztraminer or Muscat, Argentina Torrontés
$$ : Alsace Grand Cru Gewurztraminer or Muscat, Condrieu, Swiss Petite Arvine
Mature Whites
As a white wine evolves over time, it takes on a more honeyed or dried fruit character while developing tertiary aromas such as truffle and sometimes even a fermented soy element, which naturally pairs well with many Japanese dishes. Also, see Mature Riesling.
Best pairings: miso soup, seafood nabe
Oxidized Whites (Sherry, Jura)
White wines made in an oxidized method are immediately recognizable by the strong walnut aromas which develop through extended contact with air during the maturation process. Spanish Sherry is fortified with alcohol and comes in a variety of styles ranging from the delicate Fino to the more powerful Oloroso. In the French Jura wine region however, non-fortified whites are made from the Savagnin grape, with the timeless Vin Jaune, or -yellow wine-, as its flag-bearer. Renown as food wines, the unique character of these peculiar whites offer good pairings for very intense seafood dishes which can otherwise be difficult to match.
Best pairings: shabu shabu with sesame, gomaae, aji or shimesaba sushi
$ : Fino or Manzanilla Sherry, Côtes du Jura Savagnin
$$ : Oloroso Sherry, Arbois Savagnin, Vin Jaune, Château-Chalon