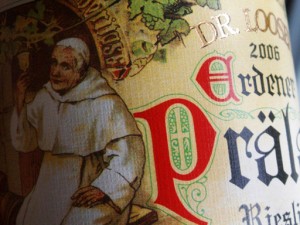 The king of Asian food pairings, Riesling also has its place in Japanese cuisine, but for different reasons. While the low-alcohol and sweetness make these wines ideal for spicy cuisine, Japanese dishes are relatively mild, though many preparations include sugar, whether it be subtle as in sushi rice or more prominent as in teriyaki sauce. Riesling, and German Prädikatswein in particular, has established itself as an off-dry ambassador, and few other wines achieve its wonderful balance of sweetness and acidity. On top of that, the variety can also yield dry and mineral whites, as well as syrupy sweet botrytis affected dessert wines, completing the palette of styles at one's disposal for finding the perfect food pairing.
Below, you'll find the major styles of Riesling, along with several examples and their usual price points ($ – under $15,  $$ – between $15 and $50, $$$ – over $50).
Special Terms:
BA = Beerenauslese
TBA = Trockenbeerenauslese
VT = Vendanges Tardives
SGN = Selection de Grains Nobles

Dry Riesling
The Riesling grape variety expresses its terroir like few others, and so its style can vary greatly from one vineyard to the next. In general, we can differentiate between ripe fruity Riesling and a tighter mineral profile. Ideally, a fine dry Riesling will offer a balance of the two, offering a delicate yet seductive character ideal for raw or cooked shellfish as well as a variety of other seafood dishes. In fact, its versatility makes it a great bottle to open for mixed sushi platters.
Best pairings: mixed sushi, hotate sashimi, grilled clams
$ – $$ : Alsace, Germany trocken, Austria trocken (Wachau, Kremstal, Kamptal), New York (Finger Lakes), Australia (Clare Valley, Eden Valley), Chile (Bio Bio)
$$ : Alsace Grand Cru, Germany Erstes/Grosses Gewächs (Pfalz, Rheinhessen), Wachau Smaragd
Prädikatswein / Off-Dry & Sweet Riesling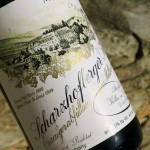 These Riesling wines contain residual sugar to varying degrees. While the German and Austrian Prädikatswein classification measure the ripeness of the original grapes and not the actual wine, one generally associates a certain amount of sweetness in the bottle at each quality level (Kabinett, Spätlese, Auslese, Beerenauslese & Trockenbeerenauslese + Ausbruch and Strohwein in Austria), as long as it is not labeled "trocken". Here, we will discuss each level separately, while keeping in mind that individual producers may release wines which are drier or sweeter than average. In France's Alsace region, sweet wines are labeled as vendanges tardives (VT – late harvest) or Selection des Grains Nobles (SGN – botrytis wines).
$ : Germany/Austria Kabinett or Halbtrocken
$$ : Germany/Austria Spätlese or Auslese (Mosel, Rheingau, Nahe), Alsace VT
$$ – $$$ : Germany BA, TBA or Eiswein (Mosel, Rheingau, Nahe), Austria BA, Ausbruch (Rust), TBA (Neusiedlersee), Strohwein or Eiswein, Alsace SGN, Canada Riesling Ice Wine (Niagara)
Kabinett & Halbtrocken
These wines are off-dry, and generally light-bodied. While they are often drank on their own as an apéritif, they are particularly well suited for delicate Japanese dishes with a slightly sweet note, including some nigiri or maki sushi. The subtle sweetness in the rice is matched by that of the wine, without overshadowing the sushi's pure flavors.
Best pairings: amaebi, anago, suzuki or hamachi nigiri sushi, crab sunomono
Spätlese, Auslese & VT
Late harvested Spätlese and Auslese wines are more variable in the amount of residual sugar, although one can generalize and consider that they present more concentration and fruit intensity than off-dry wines, with their lively acidity keeping them balanced. These juicy Riesling excite your palate, thus requiring equally intense and flavorful dishes which will not be overpowered. While delicate sushi is out of the question, sweeter seafood preparations will work perfectly.
Best pairings: unagi, salmon teriyaki
BA, Ausbruch, TBA, Strohwein, Eiswein & SGN
These categories represent the pinnacle of sweet Riesling wines, with a rich and syrupy texture that will overpower nearly all Japanese dishes, including desserts, which are generally not as sweet as in western cuisine. To find a suitable pairing, one must turn to very specific ingredients which present an equally creamy and rich profile, though this is a rarity in Japanese cuisine. These wines are perhaps best enjoyed on their own, at the end of a meal.
Best pairings: shirako (cod milt)
Mature Riesling
Riesling produces some of the longest-lived white wines, which can be cellared for decades. Sweeter wines tend to "digest" their residual sugar and appear drier, while the acidity in dry wines rounds out as they unwind and develop more weight. The defining characteristic of mature Riesling however, is the distinct petrol or kerosene aromas which can develop as soon as 5 years after bottling. While it has its detractors, these notes can prove interesting for food pairings.
Best pairings: miso soup, aji sushi, oden